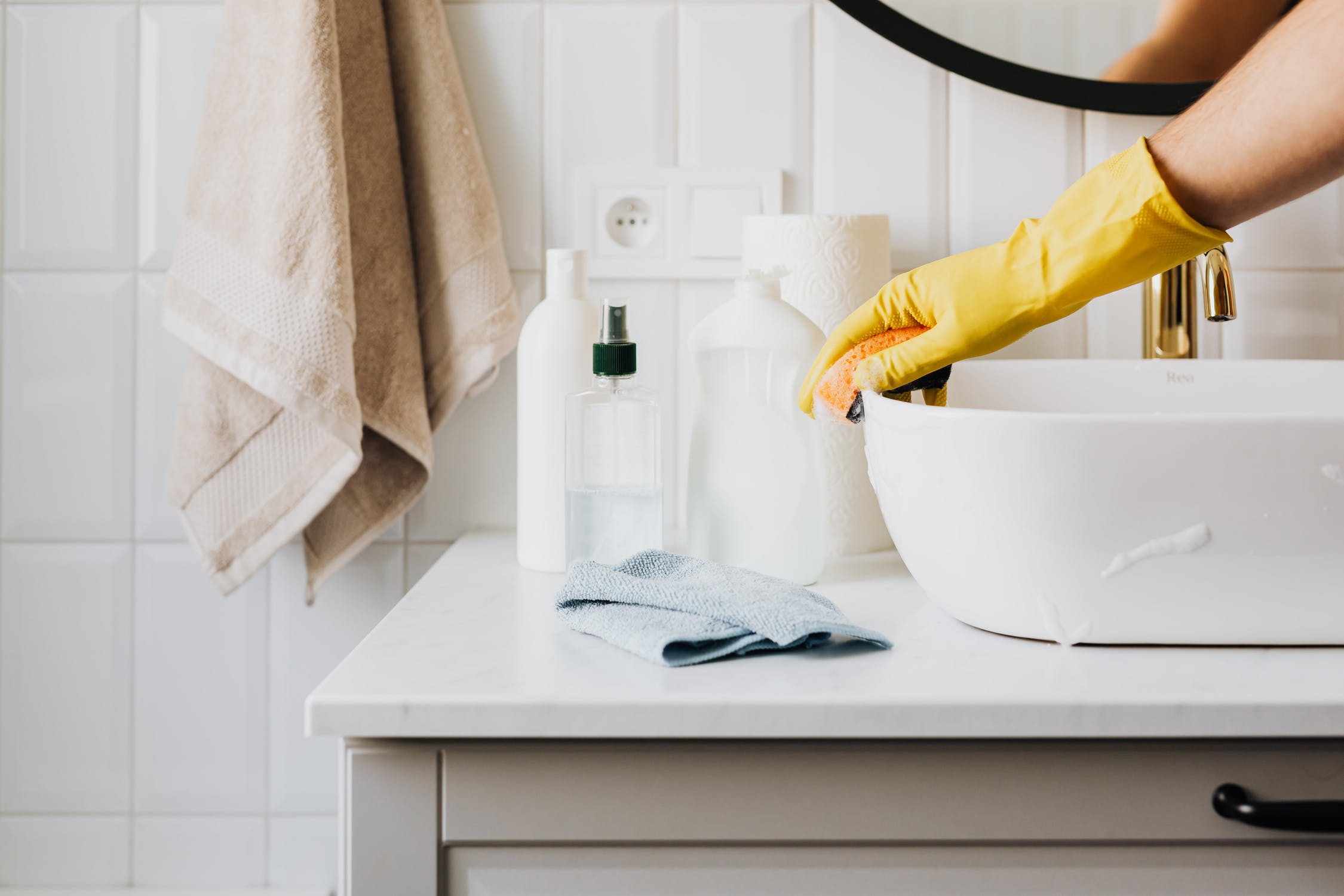 As many of us are right in the middle of a third lockdown, it may be worth knowing some easy cleaning hacks you can do from home that only require ingredients you will likely already have on hand.
1. Baking soda and vinegar mixture
Mix 1 cup of vinegar and half a cup of baking soda together with some hot water to form a solution. Pour the mixture into your empty bathtub, toilet or sink and leave to sit for around 5-10 minutes before rinsing through.
2. Microwave a damp sponge
Take a clean sponge, dampen it and then place on the microwave plate. Microwave on high for 2 minutes to kill any bacteria, and then use the sponge to wipe down the inside.
Another hack is to add 15 drops of lemon essential oil to 1.5 cups of water in a microwave-safe bowl and run on high for 5-10 minutes.
3. Buff surfaces with olive oil
Put some olive oil on a soft cloth and rub in a circular motion on your surfaces to buff out dirt spots. This works great on stainless steel in particular such as pots, pans and appliances.
4. Remove water stains with shaving cream
Shaving cream works wonders on your shower glass water stains. Just apply the shaving cream to the affected area and allow to sit for 15 minutes before wiping away.
5. Vodka on carpet stains
You've heard of putting white wine on red wine stains, and there is actually logic to this! First blot the carpet and then pour vodka, white wine or any type of clear alcohol on top to help remove the stain.
6. Essential oils for a sparkling toilet
Combine 1 cup of baking soda with 15 drops of tea tree essential oil and 15 drops of lemon or orange essential oil. Give it a mix and add to your toilet bowl. Leave it to sit for 30 minutes before scrubbing with a toilet brush and flushing.
7. Degrease the oven with lemon oil
You will need a spray nozzle bottle for this one. Mix 1 cup of water, 1 cup of vinegar and some lemon essential oil in a bowl. Use this solution to wipe down your oven and remove the grease. Sprinkle some baking soda on tough stains first.
8. Get rid of pet hair with rubber gloves
When rubber is pushed against fabric, it generates elasticity and in turn helps you to gather up remaining pet hair left over from vacuuming. Just put on some rubber gloves and rub over affected areas to pick up the stubborn pet hair.
9. Eliminate grime on the stove with baking soda
Baking soda is your best friend when it comes to DIY cleaning hacks. Simply pour it over your stovetop, sprinkle with a bit of water, leave to sit for 1 hour and then wipe away any grease and grime with ease.
10. Cleaning solution for a glistening bathroom
Mix baking soda, some drops of lemon and basil essential oils and dish soap to form a DIY aromatherapy cleaning solution. You can use this to clean bathroom surfaces such as your bathtub or sink. Sponge the mixture onto the surface and leave for 10 minutes before rinsing off to reveal a glistening bathroom!